At EdReports, we know adopting new instructional materials is capacity and time-intensive. That's why we offer free reviews of materials to help empower districts with information about the quality of math, science, and ELA programs as you navigate selection.
"After serving 20 years as an educator, I'm convinced that the artistry a teacher must exhibit to activate pedagogy, content, and the hearts of their students is the most important social justice work most of us will experience in our lifetime. That's why we, as leaders, have the responsibility to provide our educators with the highest quality materials available. Anything less in our schools is a form of educational malpractice." – Brian Kingsley, Chief Academic Officer Charlotte-Mecklenburg Schools, NC1
One of the most popular offerings on EdReports' website is our compare tool. You can easily view and sort multiple programs at once to see how they performed by grade-level and across categories of standards-alignment and usability.
The compare tool can be helpful as a starting point in the adoption process or simply an opportunity to learn more about available materials. Many users employ the tool to build a pool of programs, winnow that pool based on alignment and local priorities, and explore programs across multiple grade-levels.
For decision-makers, the compare tool is also a great resource to facilitate conversations between diverse stakeholders such as teachers, parents, the board of education, and the adoption committee. Leaders can use the information about a program's alignment and usability as a guide for probing questions about the materials under consideration.
To learn more about how district leaders can make the most of EdReports' compare tool, check out a few of the tips we've put together.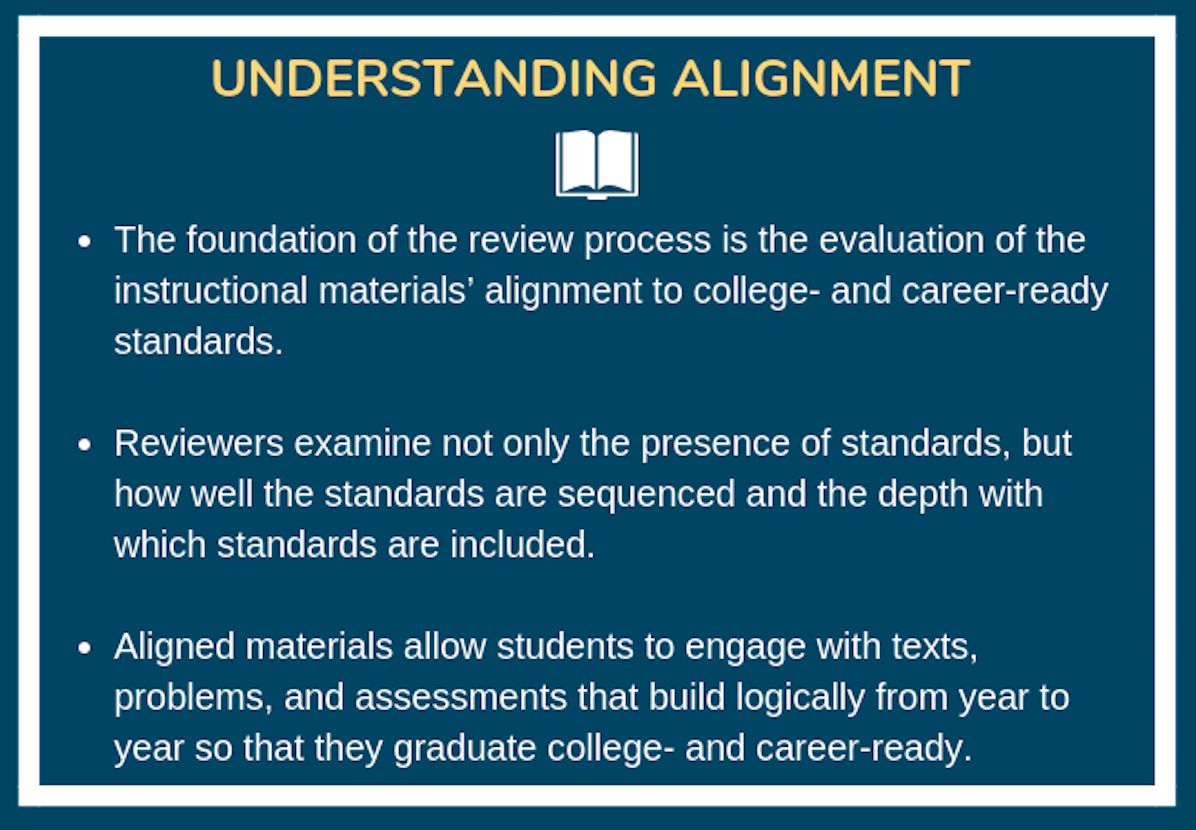 1) Let alignment be your guide.
EdReports' review rubrics focus on the degree to which materials meet expectations to college and career-ready standards. We call this "alignment," and the compare tool offers the option for sorting by alignment ratings.
Alignment ratings provide snapshots of the most foundational element of the reviews—whether or not standards were present, and treated with the appropriate depth for student learning, through key gateways.

Sorting by "alignment" is a great jumping off point to exploring individual programs and learning more about where they excel, fall short, and relate to your local district's needs.


2) Engage educators to offer informed opinions to the materials adoption committee
Including educator knowledge and expertise as part of your materials adoption increases the quality of the process. Having those voices actively sharing information with colleagues bolsters the adoption's credibility, which builds buy-in for your eventual rollout and implementation of the materials.

In our work with districts, we've seen real commitment from district leaders to transparency in the adoption process. This often entails serious engagement with educators and the sharing of information, including the programs being investigated or considered for a field test with teachers.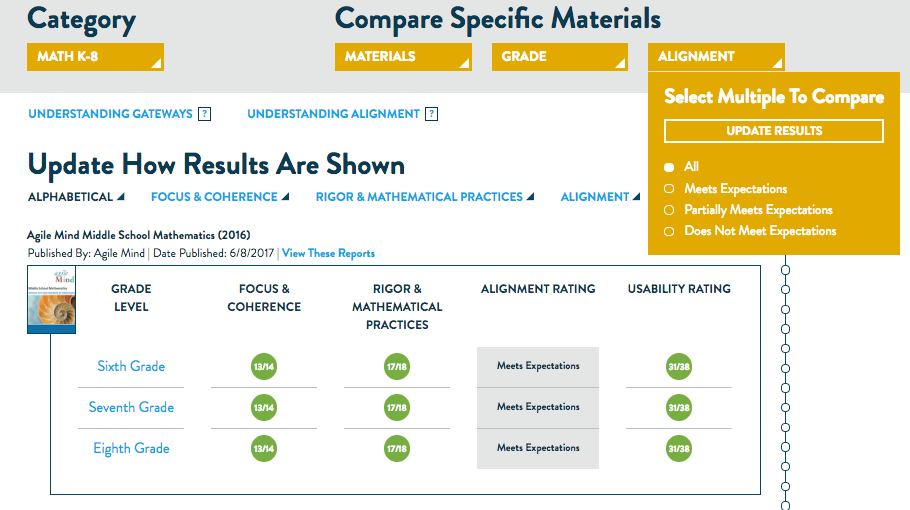 We know that not every teacher in the district can be included on the committee. As you engage the adoption team, while they're looking more deeply at the EdReports reviews and different sets of instructional materials, consider using the data from the compare tool as a way to engage the broader set of teachers, too. The compare tool can be a way to support teachers in understanding the materials landscape and the quality of programs under consideration. The tool can also support teachers in taking an active role in a materials adoption process—even if they aren't a part of the adoption committee.
Even without access to the materials, teachers will still be able to compare the different options at the program or grade level with the tool. Teachers can see whether a program met the expectations of college- and career-ready standards and how "usable" the program is—e.g., are the instructional materials user-friendly for students and educators? The alignment gateways are an especially valuable asset for teachers to see which areas (e.g. "Focus and Coherence" or "Rigor and Mathematical Practices") of a particular program are strongest and weakest.
Best of all for district leaders, beginning to engage educators with the compare tool can lay the foundation of a shared language and an avenue for teachers to contribute informed opinions to leadership and the committee. A materials adoption must include active, informed, engaged teacher voices and the compare tool is one way to encourage those conversations and ensure everyone is heard.
3) Prepare for stakeholder engagement.
We know the demands on district leaders' time are tremendous. While our compare tool tips for adoption committees focuses on the beginning of an adoption process, the compare tool can be extremely valuable as the adoption process nears the final recommendation phases.
The compare tool offers a place to get a high-level view of the programs the adoption committee is recommending before they're presented to the board and community or go out into schools for teachers to try out. The tool also illuminates any fundamental gaps in a program and can act as guidance for leaders when speaking to the committee about why materials were recommended and how gaps in materials might be addressed.
This deep dive into our curriculum is not just a helpful exercise: it's a moral imperative if we are truly working on behalf of every student. – Sonja Santelises, Chief Executive Officer Baltimore City Public Schools2
Because of the multiple ways data can be organized, the compare tool enables teachers to communicate with both leaders and the adoption committee about materials in classrooms or those under consideration for selection. It allows the adoption committee to communicate with district leadership clearly and effectively about its recommendations. And it provides district leadership a quick guide to the strengths of the programs they will bring to the school board, teachers, and ultimately a community of parents and students.
"We realized that access to high- quality grade-level instruction is the pathway to equity. We owe it to teachers, parents, and students to make sure the resources are there." – Whitney Oakley, Assistant Superintendent, Teaching, Learning & Professional Development, Guilford County Public Schools, NC3
The compare tool supports decision-makers with a quick view and entry point information about where they should put the bulk of their time and resources. Throughout the adoption, lean on the compare tool as a way to determine where deeper dives need to happen, who should be engaged in those dives, and what areas of specific programs should be explored to ensure the materials chosen are not only aligned but will support the needs of your district's students.
---
1https://learningforward.org/wp-content/uploads/2018/12/the-learning-professional-december-2018-1.pdf
2https://www.washingtonpost.com/news/education/wp/2018/07/17/the-importance-of-asking-hard-questions-about-what-students-learn-in-school/
3https://learningforward.org/wp-content/uploads/2018/12/educators-can-pave-the-path-to-equity.pdf